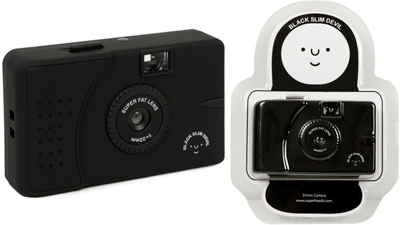 Enter the

Black Slim Devil
An all-plastic 35mm f/11 film camera with a 22mm wide angle lens, and shutter speed locked at 1/125s, this Vivitar Ultra Wide and Slim remake by Superheadz (made in Tokyo) has reinvigorated the toy camera scene, and has been an essential part of my photographing adventures here in Seoul. If used properly (mostly where sunlight is abundant, and light can easily enter through the lens), the photos are emblazoned with it's signature vignetted edges, and distinguishable lens flare. The colors have come out amazingly beautiful to my delight, though I am still very inconsistent with it thus far. Also, the camera is lightweight, and very easy to handle. The only drawback would be the small viewfinder, but it's so inconspicuous and quick it's perfect for street photography. Sometimes I don't even put the camera up to eye level, but just shoot at arm's length!
Nonetheless, here are a few of my
favorite
shots taken from 3 different rolls (all same film types).
enjoi
Rolls
:
1-3. Fujifilm Superia 400
/////////////////////////////////////////////////////////////////////////
#1
かめはめ波!!!!!!!!
#2
directly outside my villa. loud mornings.
#3
i see five.
biking season.
pax